Deluxe gift box by Yarra Valley Caviar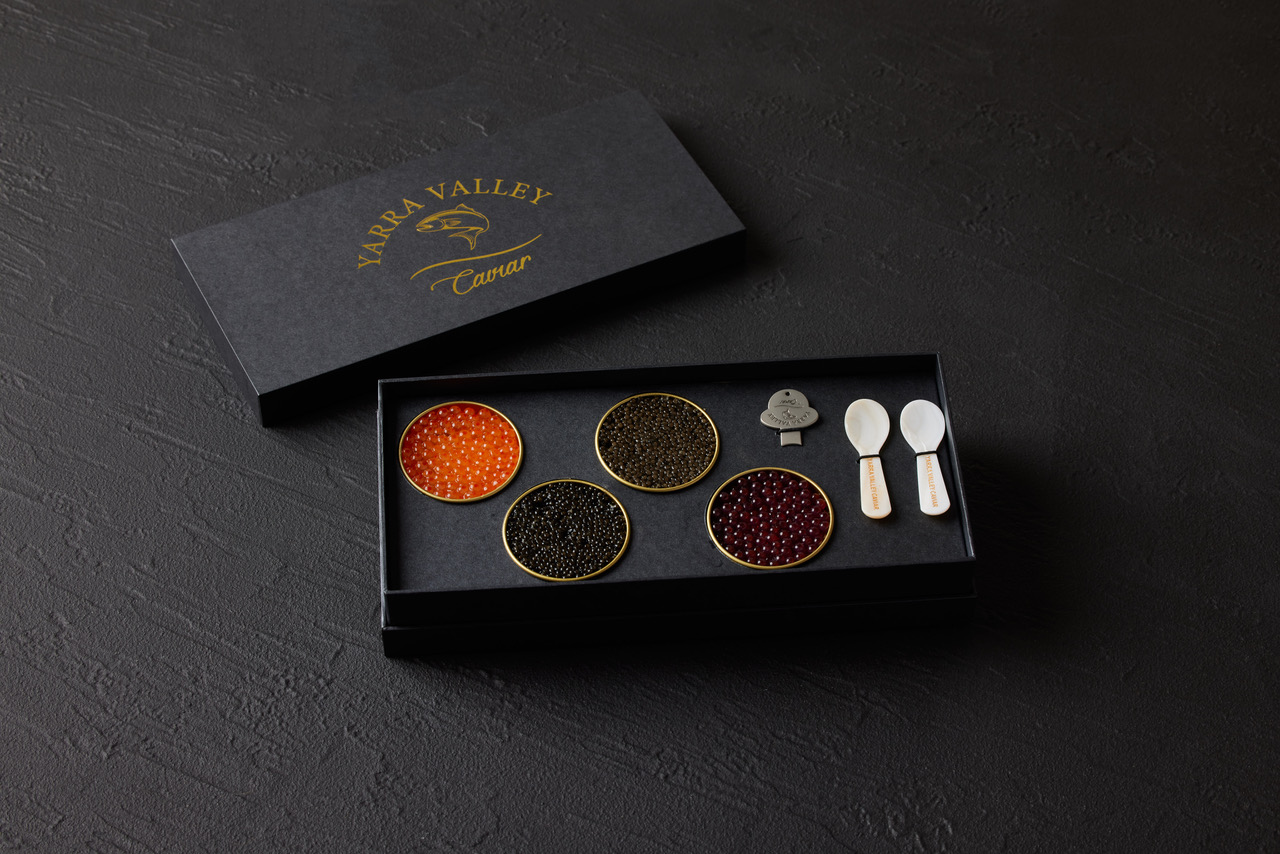 This bespoke gift box is the perfect offering for every caviar enthusiast.
With the option to complete the box with any combination of caviars and pearls, this kit comes equipped with two Mother of Pearl spoons and our convenient tin opener.
With an insulated base designed to carry an ice pack, this beautifully crafted box doubles as a unique serving dish, ensuring your caviar stays chilled whilst being enjoyed.
First Harvest Salmon Caviar
Yarra Valley Caviars Premium First Harvest Salmon Caviar celebrates the first spawning ever of our young female Salmon. The result is a softer more palatable pearl that melts in your mouth and accentuates the taste buds with a crisp salty burst of flavour.
Caviar – Smoked Salmon Pearls
Yarra Valley Caviar's Smoked Salmon Pearls are causing quite the sensation amongst Australian and International Chefs. This innovative product is a combination of 72 hour smoked red gum salt used in the brining stage followed by cold smoking using a local Mountain Ash hard wood. The result is mild, sublime smokey flavour that bursts in your mouth.
Caviar Rainbow Trout Pearls
Yarra Valley Caviar's Rainbow Trout caviar is a smaller sized pearl, with its own unique and subtle earthy flavour. Characterised by its strong red orange colour, the caviar appeals to many chefs as an alternative to the larger salmon pearls to create an elegant appetizer or topping to a range of varied dishes.
Golden Caviar Brook Trout Pearls
Yarra Valley Caviar's more recently added Brook Trout caviar, has a rich golden colour and a creamier more delicate flavour, which is softer on the palate. The golden caviar is an interesting addition to the caviar range, and differs in texture and taste, melting, rather than bursting in your mouth.
Polanco Oscietra Caviar Grand Reserve 30G
Polanco Oscietra Sturgeon eggs offer a delicate texture in your mouth with very long buttery flavours with a touch of walnuts and dried fruits, due to its maturing process handled carefully in 2kg mother tins for 2 to 4 months before its final repacking just before delivery to our customers.
Polanco Baerii Siberian Caviar 30G
Polanco Baerii Caviar is without a doubt one of the most complex products available worldwide, full of character with rich nutty buttery undertones designed for the expert palette. Matured like a fine wine in 2kg mother tins for 2 to 4 months before its final repacking just before delivery to our customers
Yarra Valley Caviar X Four Pillars Bloody Shiraz Gin was made using premium First Harvest Atlantic Salmon Pearls.
The flavour profile starts with beautiful soft citrus notes, along with juniper and cassia. The gentle spice of Tasmanian Pepperberry comes through with the salty burst and pop of the roe, whilst the lingering aroma of Bloody Shiraz Gin is subtle yet present. It's unique flavour, colour and visual appeal is like no other.
This roe is best served very cold as a bump, or alongside crisp cold seafoods such as pacific oysters, scallops and light white fish sashimi.
Comes with 8-10 weeks shelf life life chilled
Our Atlantic Salmon Pearls are enriched by using traditional Japanese flavour combinations. Marinated for 48 hours in our house recipe yielding a unique and distinct flavour profile along with visual appeal.
The combination of premium soy sauce, katsubushi and Saké enhanced by hand harvested wakame from Victorian waters resulting in a umami rich roe perfect for rice and seafood dishes alike.
Available in 25g / 85g tins
Free shipping for all orders over $120!

Shipping details
All orders are now shipped door to door with our dedicated refrigerated courier service, equipped with GPS driver tracking and SMS alerts.
All capital cities and most major regional* areas covered. Orders may take up to 10 business days depending on location. *A member of Yarra Valley Caviar will be in contact should your postcode require additional freight time.
We dispatch orders on Tuesday mornings each week. Please have your order in by 5pm Monday afternoon.
For more information…