Barbequed King Prawns, ponzu, furikake and Bloody Shiraz Gin Caviar
6 x Whole jumbo Australian Green King Prawns
1 jar ponzu soy dressing – Found in Japanese groser ( A citrus based soy sauce)
1 x packet of Furikake – A Japanese seasoning of sesame seeds, seaweed and smoked dried fish.
Lemon juice
Bloody Shiraz Gin Caviar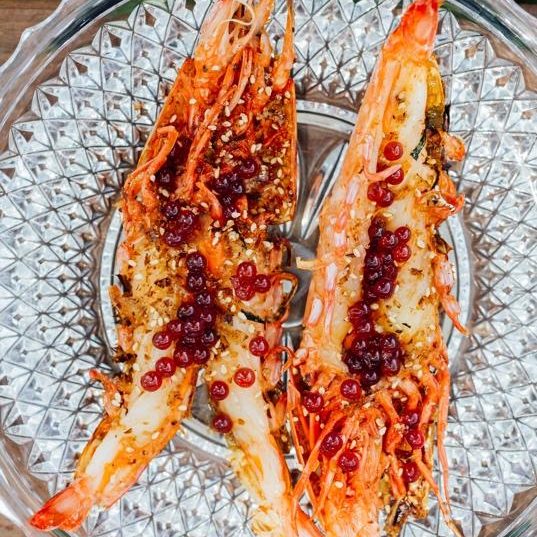 Split the prawns through middle, from head to tail leaving the shell on, and push them open with your hands.
Oil and season heavily with the furikake on the flesh side of the prawn.
Place onto hot bbq or grill pan, and cook on the shell side for 3-4minutes, or until the flesh turn opaque and firms. This is a sign that the prawns are cooked. Don't be tempted to overcook them, as they become tough and dry.
Remove from the bbq and dress with ponzu sauce liberally.
Transfer to serving plate and scatter the Bloody Shiraz Gin Caviar down the prawns.
The shell will be crunchy and edible. The head is worth attempting at least once!