'Fried Rice' Cake, Ikura Shoyu Zuke Pearls and Sweet Soy dressing
50g Ikura Shoyu Zuke Pearls
100g Sushi Rice
30mls sushi seasoning vinegar
2 stalks spring onion
50g Furikake Japanese rice seasoning ( found in Asian grocery stores)
Kewpie Mayonnaise
For the dressing
50mls Ketchup Manis sweet soy
50mls light soy sauce
10mls sesame oil
20mls Black vinegar
10g sugar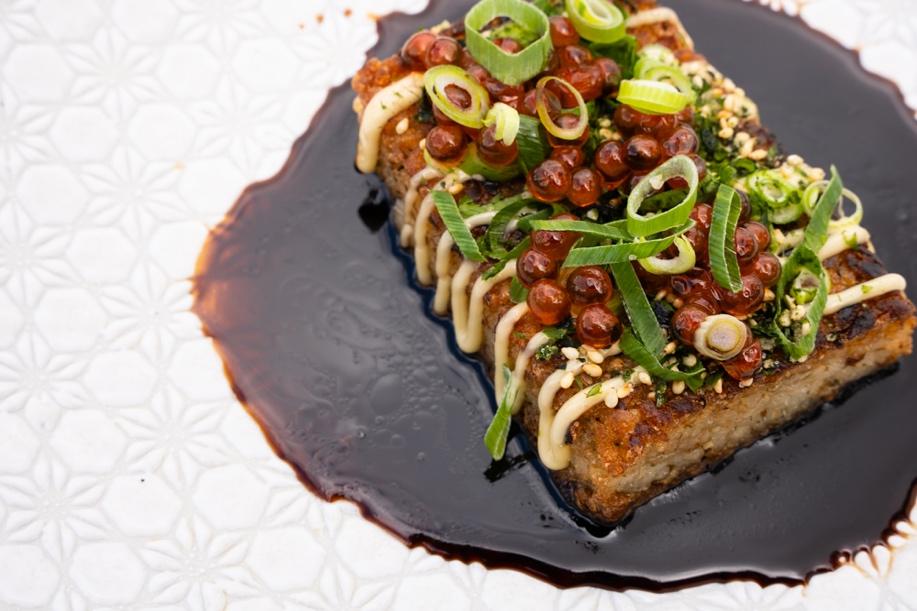 For the dressing – Bring all ingredients to the boils to dissolve sugar. Remove from heat and allow to cool. Set aside.
For the rice cake – Place rice in a small pot and cover with 120mls water (don't wash rice like usual as we need the rice to be sticky once cooked). Bring to boil then reduce heat to low simmer, cover the pot with a lid and cook for 13 minutes. After this time, turn off heat and allow to steam in the pot for 10 minutes further (don't remove the lid as we need the residual steam to finish cooking the rice).
Stir in the rice vinegar and furikake seasoning mix along with fine chopped spring onion. Transfer the rice into a small container such as a 'take away container' or tray so that the rice can be compacted into a 'cake' by using another container on top as a weight. Very important that the rice is still warm at this stage and can pressed in the fridge. Allow the rice to cool (overnight) in the fridge. Once chilled and set, turn out from container. It should resemble a firm brick of cooked rice.
In a non-stick pan, on medium heat pan fry the rice cake until golden on each side in shallow oil. The cake should be crispy on the outside and soft rice inside.
Remove from pan and drain off the oil. Dress the top of the cake with kewpie mayonnaise, sprinkle of extra furikake, spring onion and Ikura Shoyu Zuke Pearls. Finish with the sweet soy dressing. Enjoy warm!