Potato and Tuna Hash, First harvest Pearls, Watercress and basil dressing
For the Potato Hash
3 Large Desiree potato ( or suitable mashing potato)
150g tin of good quality canned Tuna in brine
Tablespoon hot English mustard
Tablespoon baby capers – finely chopped
Lemon juice to taste
Salt and pepper
Flour/ egg/ breadcrumb for crumbing mix
For the dressing
½ bunch basil leaves picked from stem
¼ bunch watercress
1 avocado
1 small clove garlic, peeled
20mls lemon juice
80 mls Extra Virgin Olive Oil
Water as needed
Salt and cracked pepper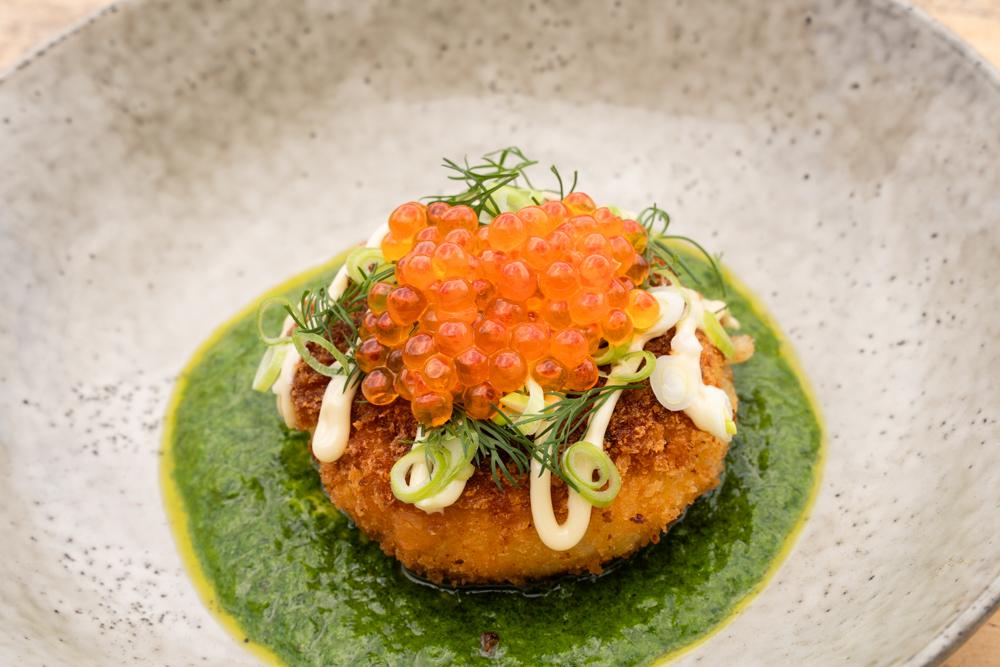 For the dressing – In a blender or food processor, add garlic clove, avocado, lemon juice and half the oil. Blend this until smooth puree (add a small amount of water if required to blend smooth). Then add the watercress and basil leaves. Continue to blend into a luscious green puree. While motor running, add the remaining olive oil. The result should be a thick, bright green and vibrant puree. Season with salt and cracked pepper – and adjust with lemon juice if required. Transfer to small container and refrigerate until required.
For the Potato Hash – Peel and cut potatoes into chunks and place in large pot of cold water. Bring to boil and simmer until potato is completely cooked. Strain off all water and return to the pot. Use a ricer or masher to mash potato into smooth mixture. (the potato needs to be very dry, so don't be tempted to add milk or liquid back to this). Drain and discard the brine from the tuna and mix this through the potato. Stir in English mustard and capers. Season with salt, cracked pepper and lemon juice to taste. Allow the potato mix to cool (in the fridge). Once chilled form into small balls and press down slightly to form a small disk. Allow to set/ firm in the fridge before crumbing in the breadcrumb station.
To cook, heat enough vegetable oil in a shallow sided pan to cover halfway up the side of the fish cake. Fry until golden on one side then gently turn to fry on the other. Cook until crisp and golden all over. Remove and drain on paper towel. Finish by adding some mayonnaise to the top of the hash along with some dill and spring onion. Top with Salmon Pearls.
To serve, place the basil and watercress dressing on the base of the bowl followed by the potato hash. Enjoy warm!