Spring vegetable salad, pickled mushrooms, white bean and Smoked Salmon Pearls
Enjoy this salad alongside Barbequed Fish or Chicken, or even perfect on its own!
50g Smoked Salmon Pearls
1 bunch asparagus
100g fresh Broad Beans
100g fresh peas
¼ bunch enoki mushrooms
1 tin of large butter beans ( drained of liquid)
2 stalks spring onion, finely sliced
Small bunch of herbs such as watercress, mint, dill, basil or chervil
1 radish fine sliced
1 small shallot fine sliced
For the pickle/ dressing
100mls white wine vinegar
30g sugar
100mls extra virgin olive oil
Lemon juice to taste
Salt and cracked pepper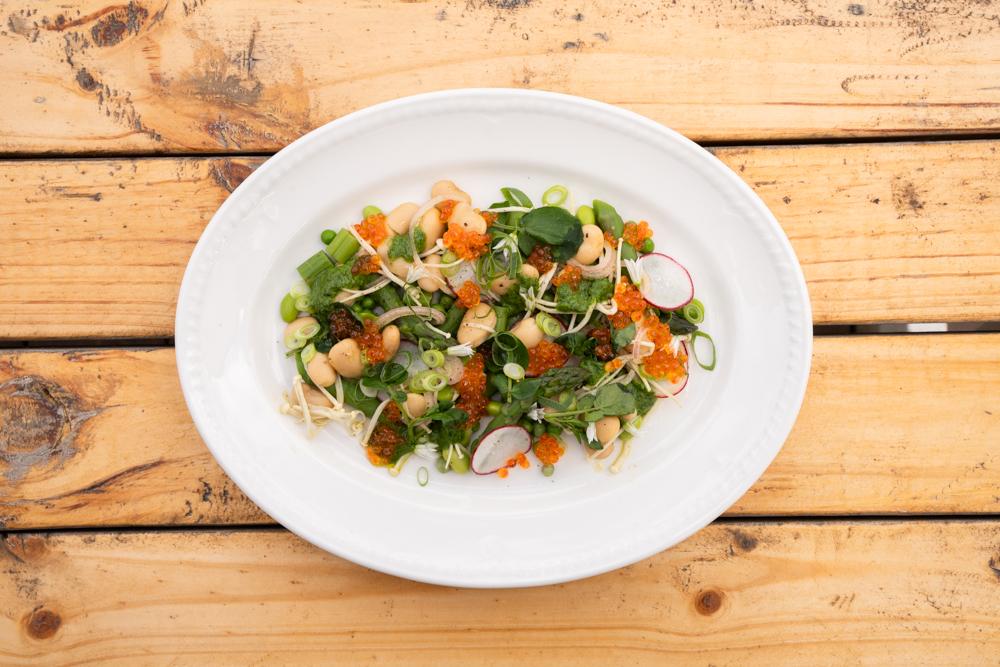 Bring the vinegar and sugar to the simmer to dissolve sugar. Remove from heat and allow to cool slightly. Add olive oil and lemon juice. Season with Olsson's Sea Salt and fresh cracked black pepper. In a small bowl combine the butter beans, shaved shallots and raw mushrooms. Pour the warm dressing over this and allow to marinate/ pickle. The mushrooms and shallots will soften in texture. This can be done in advance.
In a large pot of boiling ( salted) water cook the green vegetables ( starting with the biggest). Add asparagus and cook for 1 minute. Now add the broad beans and cook for a further minute, then finish with the fresh peas and cook for a further minute. ( approx. 3 minutes total for all ingredients. Make sure the water remains boiling so keep vegetables green and tender). Once all cooked, strain off water and plunge into iced water to stop them cooking. Once completely chilled, drain off liquid.
Mix green vegetables with the marinating mushroom mixture, thin sliced radish and herbs. Adjust seasoning with more salt and pepper.
Arrange the salad on serving plate and scatter with Smoked Salmon Pearls.