Tomato, Buffalo mozzarella, green goddess, Salmon Pearls.
250g ripe tomato – sliced and cut into different sizes
Buffalo mozzarella – cut in half
Yarra valley Caviar Atlantic Salmon Pearls
Chives and Dill – fine shopped
Toasted white sesame seeds
Extra Virgin Olive Oil
Red wine vinegar
For the green goddess sauce
3 tbl spoons Salsa Verde – from the deli section in the shops ( or you can always make your own)
100g crème fraiche or sour cream
30mls Extra Virgin Olive Oil
Juice of ½ lemon
( whisk all together until incorporated, season with sea salt flakes and fresh pepper)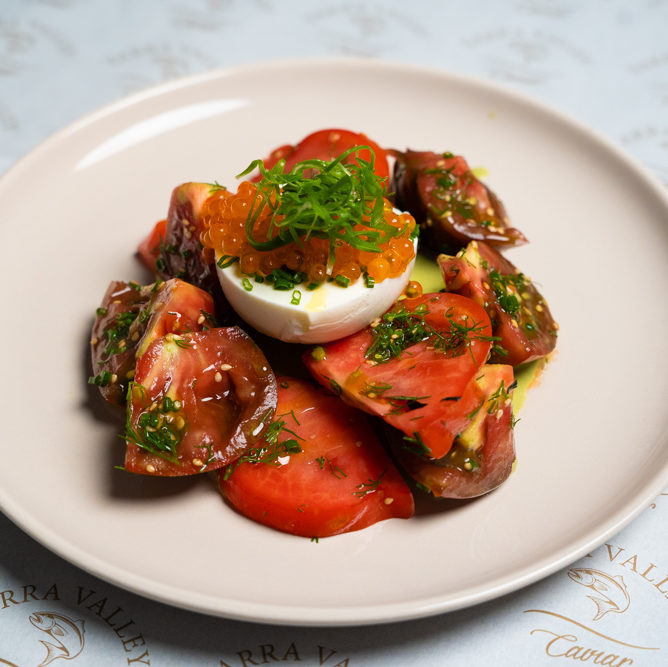 Assembly
In a bowl, place cut tomatoes, chopped herbs and sesame seeds. Add vinegar and oil, along with sea salt and fresh pepper. Allow to marinate at room temperature for a few minutes.
On your serving plate, place the green goddess on the base. This will help keep the tomatoes in place. In no particular order, arrange the tomatoes around, leaving room for the mozzarella in the middle. Season the mozzarella with olive oil and sea salt, cover with Salmon Pearls and some extra chives. Finish by adding some of the oil and vinegar water left over from the tomatoes.