Warm potato waffles, Smoked Trout, Sunnyside egg and Rainbow Trout Pearls
Take your brunch to the next level with Waffles and Pearls!
For the waffle
300g left-over dry mashed potato
2 eggs
120g plain flour
30g melted butter
120mls milk
Salt / Pepper / chopped chives
For the smoked trout mixture
100g smoked trout, bones and skin removed
Tablespoon crème fraiche
Teaspoon Dijon mustard
Teaspoon chopped cornichons and capers ( plus a little brine from the jar)
Lemon juice to taste
Dill and chives
50g Rainbow Trout Roe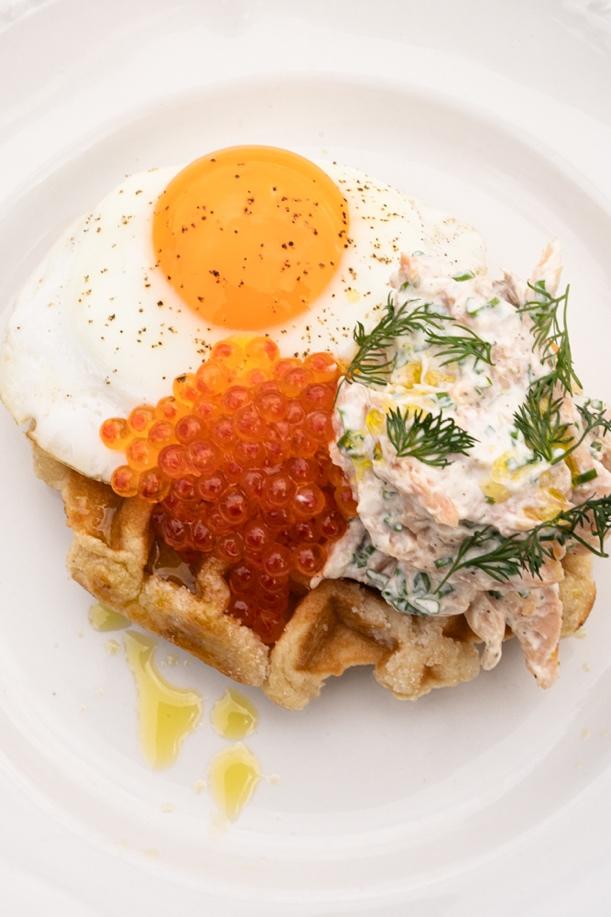 For the waffle: In a bowl, use a whisk to combine the mashed potato together with 2 eggs, melted butter and milk. This will be a thin mixture similar to runny pancake batter ( no lumps!) Now whisk in the flour in stages until you have a thick and shiny batter. It should now resemble a thick cake batter. Season with salt, pepper and chopped chives.
Pre-heat your waffle machine and cook until beautifully golden. Keep warm.
For the smoked trout: In a bowl, combine crème fraiche, mustard, cornichons and capers, along with a small amount of the brine. Now fold in the chunks of flaked Trout, herbs and juice of half a lemon. Check for seasoning and adjust as needed.
Fry the egg to your liking, poached and scrambled are just as nice! Season well.
Assemble the warm potato waffle with a generous spoon of Smoked Trout, eggs your way and finish with Rainbow Trout Roe. Drizzle with olive oil and some chopped dill.